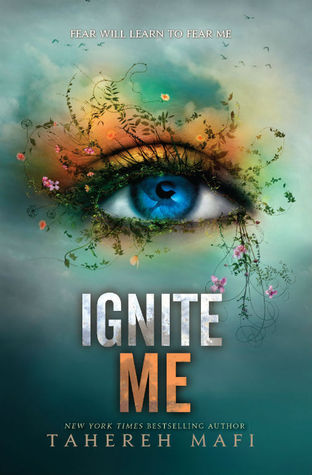 Ignite Me
by Tahereh Mafi
Shatter Me, Book 3
Ebook, 393 pages
Read from November 15 to November 22, 2015
I read this book on Scribd
here
If you would like a free two month trial to their service, you can get one through my link
here
I buddy read this book, as well as the previous two installments with the lovely Christina de Vries. Please check out her blog
here
My rating: ☆.。.:*・°☆.。.:*・°☆.。.:*・°☆.。
Image credit to Goodreads
I pondered for a long time before writing my review, because I didn't know if I would be able to write it without a ton of spoilers. I am going to try here nonetheless. I am not promising there won't be spoilers though, so where they are, I will have them bracketed and hidden. You just need to highlight them to view, if you are interested.
This conclusion to the trilogy was much more interesting and engaging than the previous installment. Though I enjoyed it, the first installment was still the best in my opinion. This final installment did however revive my interest in Dystopian trilogies. I had almost sworn off Dystopian trilogies because for me, all that I've completed before this one had been excellent in the first, okay in the second, and terrible in the last installment.This trilogy ended with an installment that I really enjoyed and did not leave me with feelings of disappointment. It was not without it's faults though.
Everything I disliked about Juliette's character in
Unravel Me
was completely turned around here, though it did leave me with a feeling of confusion at the beginning of this book. It was almost as if her attitude and actions in book two never happened! *Spoiler here (highlight to view) [
How do you go from someone who is anti-social and feeling sorry for herself all the time, to someone who suddenly thinks she can lead an entire army?!?
] Despite this, it was nice to see the strong character I perceived her to be in
Shatter Me
come back.
Before I started this series, I was constantly hearing about Warner. Though I do enjoy Warner's character especially here at the end, it's all about Kenji for me. Without him, I don't think this story would've been as enjoyable as it was to me. He ended up being Juliette's family in a sense and was never afraid to tell her how it was when it was necessary. He was also always there for her when she needed him.
The end of this story did seem rushed to me. There were things that were suddenly dropped on me that I feel I was expected to accept without question. For example, [
how is it that all of a sudden she figures out how to be invincible after being told by one of the members of Omega Point that it is possible she could be? She never even put it into practice, and it obviously didn't turn on automatically with what happened in the previous book
]. I do understand why, especially in the end, things were happening the way they were, because it does seem like they were the only way the story could get to where it concluded. That being said, a lot of it was all so sudden.
The last section also only seemed to focus on Juliette and Kenji, which had me wondering where the other characters were during what was happening. As someone who usually reads for enjoyment and without critically thinking about what I was reading, it was surprising that I was questioning things as I read. I also wish that there was some sort of epilogue letting us know where our characters were after some time had passed as the very ending felt so abrupt. It did end on a good note though, which I was happy with and I was also pretty satisfied with where our characters were in their lives as well.
Though I have my issues and questions with this story, the entertainment factor was definitely there and this was a solid four star read for me. I highly recommend that you check this trilogy out if you haven't already and I am looking forward to see what story Tahereh Mafi brings us next.